CHRONOSTAR
CHRONOSTAR watches are born in the 80's with the aim to be the young oriented brand of Morellato-Sector Group, the leading italian watch company founded in Padua in 1973 group. Since than, Chronostar watches never stopped to gain fortune among new generations, introducing every year frest styles.
Stock of Chronostar watches can be bought wholesale by retailers and wholesalers on WWT.it as well as to all sites of our european network.
Do you know the NEW COLLECTION OF WATCHES CHRONOSTAR BY SECTOR? Check it out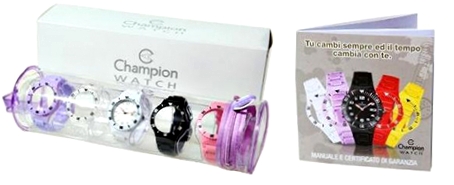 WARNING!
All products images have only describtive function:
in case of discrepancy between image and reference (SKU), delivered item will be as per SKU
| | |
| --- | --- |
| | On this product we offer shipping within 24h! * |
| | This item is available at a partner warehouse. Average delivery time is 3-5 working days. |
| | you have ordered a product available at the Mother House: It may take up to 10 working days for this article! |
| | EAN (European Article Number): this icon states for this article EAN code is available. EAN code is required by many market place (incl. Amazon) to upload a product. Order this item and you will receive its EAN code on your order confirmation e-mail as well as on your final invoice. |
* For credit card or COD orders; if you choose bank wire or Paypal, shipping will be determined by how fast you will pay